Dear Alumni,
On behalf of the newly elected Executive Committee, I wish to thank members of The University of Hong Kong Medical Alumni Association (HKUMAA) for electing us into the office, especially for the honour of entrusting me to serve as the President for the next two years.
We are all indebted to our founding president, Professor Rosie Young, and our former presidents, Professor Lee Kin-hung, Professor Leung Nai-kong, Dr Kathleen So and Dr Barbara Lam, for their outstanding leadership and invaluable contributions over the years. Since our establishment in 1999, HKUMAA has been growing in terms of membership and activities. We have organised different kinds of activities for our members, for example, dinner talks following our AGM, spring dinners, outings, sports reunions and gatherings for young alumni. We have close partnerships with the University, the Medical Faculty and organisations of the Medical field. We have been participating in sports activities organised by the Hong Kong Medical Association and the Golf Tournaments organised by the Hong Kong Academy of Medicine. We have also carried out periodical promotion of the monthly "Yum Cha" lunch service of the Academy since 2014.
HKUMAA partnered with the Medical Faculty to set up the 130 Mentorship Programme in 2017 in celebration of the 130 Years of Medicine in Hong Kong, with an aim to provide young medical alumni and students an opportunity to meet senior alumni for the enhancement of their professional, social and personal growth and to build a strong professional network. For more effective administration of the Programme, the 130 Mentorship Subcommittee was formally established this year, being our third subcommittee besides the Membership and Programme Subcommittees. Having stepped into the second term of the 130 Mentorship Programme, we have reduced our group size to 1 mentor with 3-5 mentees and shall try to organise more sharing on career/ specialty specific topics.
In light of the development of COVID-19, many of our activities scheduled in 2019 and 2020 were forced to be cancelled or postponed. Yet, we are striving to make use of the online platform to carry out our initiatives as far as possible, such as our 20th Annual General Meeting which were held with physical attendance and also via online platform. Hopefully we could resume more of our activities when the situation allows.
For the coming two years, with the support from my fellow Executive Committee members, especially the two newly elected Vice-Presidents, Dr Libby Lee and Dr Kevin Lau, we shall do our best to strengthen the fraternity of medical alumni.
The most essential component of the Association is YOU, our treasured alumni. We wish to get in touch with as many of you as possible. And we truly need your input and guidance for mapping out the future developments of the Association.
I look forward to hearing from you and seeing you in our coming activities!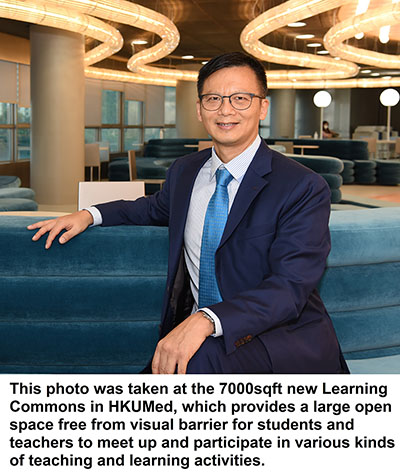 Dr Matthew SH Tsui
President, HKUMAA
August 2020